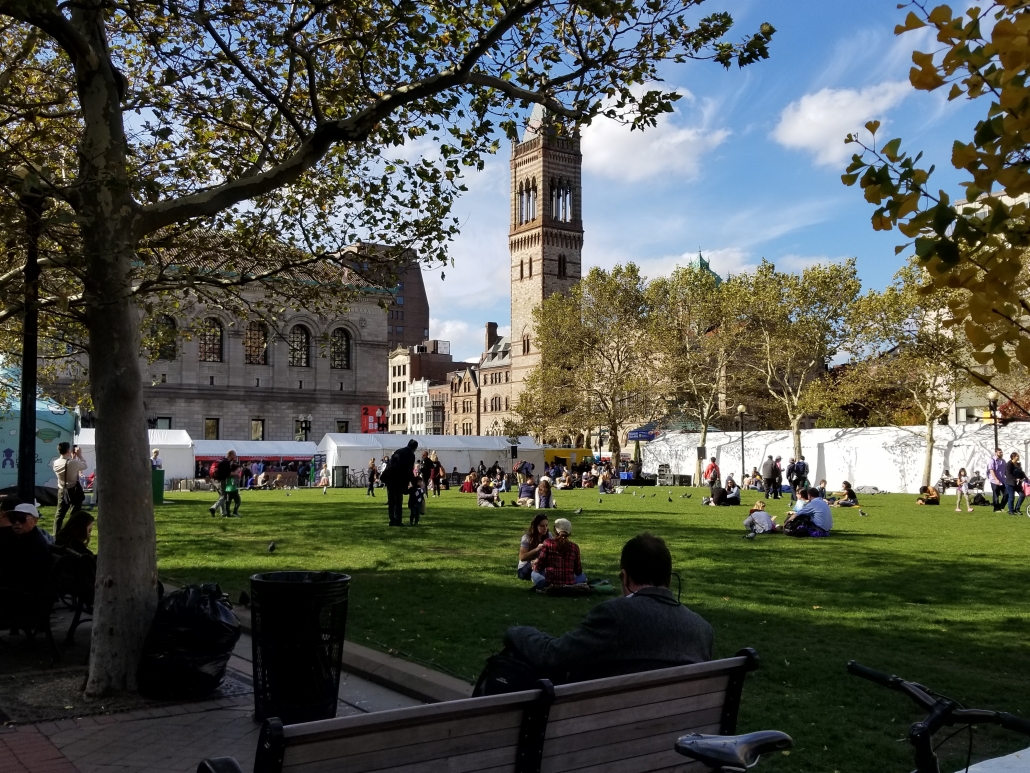 We were thrilled to catch up with long-time BBF volunteer superstar, Sarah Schlesinger, who told us about her serious crafting abilities and how she once made flower crowns for a BBF event.
Could you tell us a little about yourself?
I work in accounting currently for an online retailer but have crunched numbers at a hotel, dot com and non-profit in my career. I am an avid knitter and all-around crafty person. The festival put me to work one year making flower crowns for a children's event. For the past several years, I've volunteered regularly at the Womens Lunch Place, a day shelter in Back Bay.
How did you end up volunteering at the festival? 
I honestly can't remember! I had never gone to the festival before I volunteered. Most likely, I probably saw a flyer at Brookline Booksmith and it sounded like something I would like to do.
How long have you been volunteering for, and what kinds of different positions have you done during that time? Any favorites?
I have been volunteering at the festival since 2013 and have been an usher, worked at the merchandise table, and assisted in author hospitality rooms and with event booksellers.
What was one of the most memorable BBFs for you and why?
One year I was volunteering at the location of the YA Keynote. To see the line form hours before the talk, comprised mostly of young readers so enthusiastic to hear an author speak, was just a great sight to see.
What keeps you coming back volunteering year after year? I come back each year because I always have a great time.  I love being a part of so many people in the city celebrating books, learning, and discussing. Some of my favorite moments of the festival have been chatting with fellow ushers between events about what we are reading.
Anything interesting you'd like to share about your time in lockdown over the last few months? I realized how much I read during my morning commute on the T. The commute to my home office doesn't afford that much reading time!
What are you most looking forward to this summer? Mostly I am looking forward to venturing back out into the city and hopefully a return to a bit of normalcy. I look forward to the idea of sitting outside a coffee shop, with an iced coffee, reading, and people watching.
What do you have in the line up for your summer reads? I joined a virtual book group that is reading Deacon King Kong by James McBride, so am looking forward to starting that.