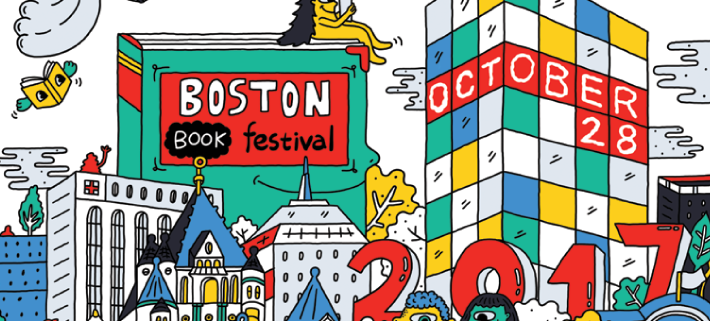 BBF 2017 kicks off TONIGHT, 10/26, with Lit Crawl Boston, presented by Boston's Literary District, and continues tomorrow, 10/27, with The Book Revue, a free author variety show featuring poetry, monologues, live music, and even a surprise or two. But the big event takes place Saturday, 10/28, in Copley Square and at indoor locations around Back Bay. This year's BBF theme is "Where We Find Ourselves"—we encourage you to consider what this theme means for you, our city, and our culture as you explore the many choices for fun and thoughtful programs at this year's BBF. And read on for some essential tips to help you make the most of your day at the BBF!
It's all free. This year every single session, workshop, and event at the BBF is free, and no tickets or preregistration are available for any session. If you've been using Sched's interactive planning and scheduling tools on our website, that's great, but that's all they are—convenient planning tools for you, not registration or a guarantee of admission from us. Admission and seating at all our events is first-come, first-served, so we recommend you arrive early for sessions that are especially important to you! Need help navigating our online schedule? Visit this brief tutorial.
Plan ahead if you plan to drive. This year, we're partnering with ParkWhiz to help BBF attendees find and book the best deals on parking near the festival. You do need to book parking in advance in order to take advantage of the ParkWhiz deals, however, so take a few minutes and have one less thing to worry about as you head into the city.
Heck, plan ahead if you plan to take the T, too. Again this weekend, the MBTA is using shuttle bus replacements on the red line from Cambridge, so allow extra time if you're coming across the river!
Bring a tote bag (or buy one from us!). Thanks to our partner booksellers, book sales and signings follow all of our sessions, so bring a bag (or buy a new one at our merch booth!) to stock up on new finds (not to mention goodies from our 75+ exhibitors on Copley Square!).
Love the BBF? Help keep it free to all. If you love the BBF, help support it! The BBF is run by an independent nonprofit, and we rely on donations from individuals to help keep the festival thriving and free to all. Donations in any amount are appreciated, but membership benefits start at $50; more substantial donations of $500+ can get you priority seating, party invitations, and more! You can contribute to the BBF online anytime or at the membership table at the big BBF tent on the day of the festival. Thank you for your support!
Most importantly? Have fun! We hope you enjoy this free celebration of books and literary culture. We've certainly had fun putting it together for you. Tag us on Twitter and Instagram and use the hashtag #BBF2017—we can't wait to see how you spend your day!