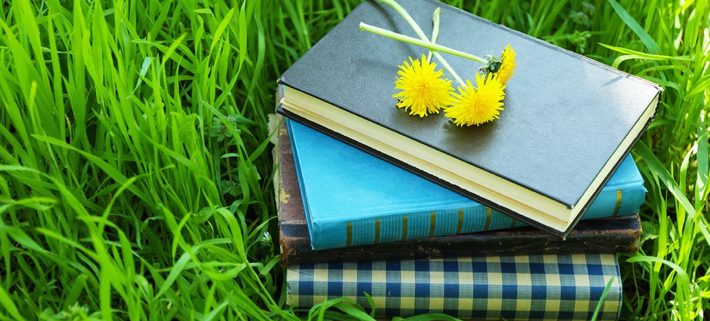 Whether your summer plans involve packing a suitcase for a far-flung destination or just packing a bag for the nearest beach or pool, you'll want to be sure to include a good book (or two . . . or three . . .) wherever your summer adventures take you. Team BBF has compiled some of our favorite summer reading recommendations to send you on your way—happy summer, and happy reading!
Debbie Porter, Founding Executive Director
I recommend the novels of Rachel Cusk. Outline and Transit are the first two books in what are being called Cusk's post-divorce trilogy. Cusk has spoken about her reluctance to write either fiction or autobiography, and her latest works are not easily classified as either.


Shop Indie Bookstores
Topping my own summer reading list is David Grossman's A Horse Walks into a Bar, winner of the 2017 Man Booker International Prize. I also plan to dig into a pile of BBF 2017 authors' books, but since we haven't announced the authors yet, I can't tell you which ones!


Shop Indie Bookstores
Norah Piehl, Deputy Director
If your summer travel plans include a Caribbean cruise, you probably don't want to pack Maile Meloy's Do Not Become Alarmed; for everyone else, however, I thoroughly recommend this literary thriller about a cruise ship vacation gone horribly awry. Besides being a true page-turner, Meloy's latest takes on issues of privilege and prejudice, as well as the fragility of family life and relationships.


Shop Indie Bookstores
I spent part of my childhood in Michigan's Upper Peninsula, and Karen Dionne's fantastic new suspense novel, The Marsh King's Daughter, took me right back to that area's remote beauty and wildness. Perfect for fans of Emma Donoghue's Room, this novel is both a survival story (in more ways than one) and a revenge narrative that practically begs to be read in a single sitting.


Shop Indie Bookstores
Gabrielle Zevin's new novel, Young Jane Young, doesn't come out until late August, but trust me: you're going to want to get your hands on this one before summer's over. A single mother who's completely reinvented herself in the years since she was at the center of a high-profile political sex scandal now has to decide whether to revive her own political ambitions and reenter the public eye. Young Jane Young thoroughly skewers the culture of slut-shaming while also being smart, funny, and stylistically playful.


Shop Indie Bookstores
OK, I've got to sneak one more in here, since it wouldn't be like me not to recommend at least one YA novel. I listened to the audio version of Justine Larbalestier's My Sister Rosa on my long runs this spring, and let's just say it had me glancing back over my shoulder on isolated parts of the Charles River Greenway! Sort of The Bad Seed for a new generation, Larbalestier's truly unnerving novel also offers an appealingly diverse set of characters as well as plentiful reflections on genetics, free will, and the fuzzy boundaries between good and evil.


Shop Indie Bookstores
Sarah Parker, Director of Operations
It's a sad state of affairs (for me, at least) when there's no new Tana French to sink my teeth into once vacation rolls around. She's my ideal summertime read and I think has the Anglophile (Hibernophile?) literary thriller market pretty well cornered. Lucky me to stumble upon former Guardian writer Susie Steiner's Missing, Presumed in the library. This UK mystery hurtles along at a breathless pace and saves the biggest surprise for the very end. And–she has a new one coming out in July!


Shop Indie Bookstores
I'm absolutely transfixed by the new season of Twin Peaks, and the idea of revisiting the original (in all forms!) allows me to keep the dream alive between new episodes. I first read The Secret Diary of Laura Palmer (by Jennifer Lynch, daughter of David) in high school, so I'm interested to see how it stands up so many years later. And by many, I mean three. (Just kidding! I'm old.)


Shop Indie Bookstores
And just like our friends at the Horn Book, I think that "summer reading" should be anything you want—for every member of your family! For my older son that means every Pokémon book he can get his hands on, and a new favorite series: Frankie Pickle. And don't forget your rights as a reader!


Shop Indie Bookstores
Madelene Nieman, BBF 2017 Intern
The Vegetarian by Han Kang
I devoured this book as fast as I could read it while on a German train. In the midst of shouts from the drunken residents of Cologne, I was enraptured by the story of Yeong-hye, a housewife in Seoul whose rebellious choice to first give up meat (and eventually food altogether) is met with disdain and violence from her family. A drama in three acts, The Vegetarian explores themes of body politics, female sexuality, and nature, all while maintaining the most elegant prose I have encountered in quite some time.


Shop Indie Bookstores
Frozen in Time by Owen Beattie and John Geiger
Nothing to cool you down on a steamy summer day like the story of hundred-year-old bodies preserved in ice! Frozen in Time tells the story of the Franklin Expedition, an ill-fated 1845 search for the Northwest Passage that ended in starvation, cannibalism, and lead poisoning. The story is told in two parts—the first describing the expedition itself, and the second describing the excavation of the wreckage that took place during the 1980s.


Shop Indie Bookstores
Crucial Interventions by Richard Barnett
The second of Barnett's books on nineteenth-century medicine, Crucial Interventions provides an overview of advances in the practice of surgery. The real highlight of this book is the hundreds of pages of rare medical illustrations, garishly detailed and beautifully printed. Perfect for the casual fan of grotesque portrayals of human anatomy, this certainly makes a unique coffee table book. (I would not recommend reading it on the T.)


Shop Indie Bookstores
Cassie Sheets, BBF 2017 Intern
The Hate U Give by Angie Thomas
As a debut author, Thomas creates a riveting, intelligent YA fiction novel about race, ghettoization, police brutality, and the Black Lives Matter movement. This book offers an intelligent, nuanced, and bold statement about race relations in the United States. A perfect read to feel connected with current political movements and to create empathy across race and class divides.


Shop Indie Bookstores
She Persisted, written by Chelsea Clinton and illustrated by Alexandra Boiger
This picture book, filled with one-page biographies of thirteen women, will inspire people of all ages to look up to women who have persisted and succeeded, despite institutionalized and personal setbacks. The book includes a diverse collection of women, with several names that are less well known but nonetheless important in creating a well-rounded understanding of history, or rather, herstory.


Shop Indie Bookstores
Blue Sky, White Stars, written by Sarvinder Naberhaus and illustrated by Kadir Nelson
There's something haunting about legendary children's book illustrator Kadir Nelson's painting style. Is it the way he creates light in dark places? Or maybe it's how realistic yet dreamlike his characters look. At a time when we need it most, Naberhaus's bold, poetic words and Nelson's dramatic renderings of families across the nation make a simple and important statement: America is diverse, and diversity is American. A perfect 4th of July read for your family.


Shop Indie Bookstores