The annual scavenger hunt will extend from Boston to the Berkshires.
The Boston Book Festival will hold its annual book scavenger hunt on Thursday, October 1, and Friday, October 2, with some new twists. Just like the 2020 festival, the citywide scavenger hunt will extend beyond its Boston borders. Volunteers from across the Boston area will be hiding books by authors featured at this year's virtual festival, but we've also enlisted some of the region's literary giants to help bring the BBF Book Hunt to new places!
We've also enlisted some of the region's literary giants to help bring the BBF Book Hunt to new places!
We're excited to announce that we'll be joined by the Walden Woods Project in Lincoln, Mass., Louisa May Alcott's Orchard House in Concord, Mass., the Emily Dickinson Museum in Amherst, Mass; the the Eric Carle Museum of Picture Book Art in Hadley, Mass.; Herman Melville's Arrowhead in Pittsfield, Mass., Edith Wharton's The Mount in Lenox, Mass., and the Harriet Beecher Stowe Center in Hartford, Conn.
The expansion means that BBF fans from across the region can take part in our outdoor festival fun this year, and then tune in to our online programming all throughout October. "This year's virtual format has helped us think about the festival and its reach in new and creative ways," says Norah Piehl, BBF's executive director. "We're thrilled to celebrate the rich literary history of our region in this fun participatory event. It's always a fun way to kick off BBF weekend, and we're happy to be able to keep the tradition going and expand it even more."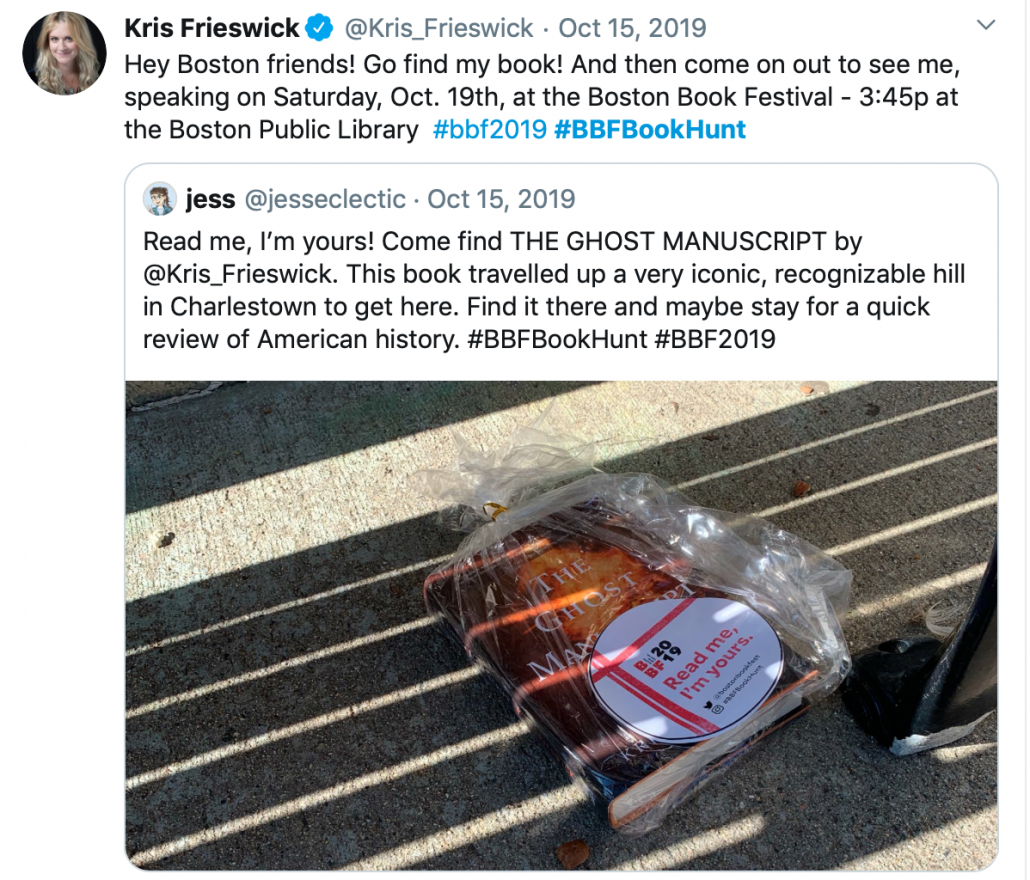 On October 1-2, we'll take over social media with clues as to where the books are hidden throughout the city and on the properties of these historical homes and centers. Everyone is invited to join in the fun! Follow Boston Book Festival on Twitter (@bostonbookfest) and on Instagram #BBFBookHunt and #BBF2020. The prize is finding a book and being able to keep it (and, of course, celebrating the win over social media!).
We also invite you to follow our partners to play along and stay in touch with all they are doing to keep our region's literary history alive.
Follow these Twitter accounts to follow the fun clues!
Walden Woods Project, Orchard House, Emily Dickinson Museum, Harriet Beecher Stowe Center, Eric Carle Museum, Melville's Arrowhead, and The Mount.
Learn more about Boston Book Festival's Annual Book Hunt.