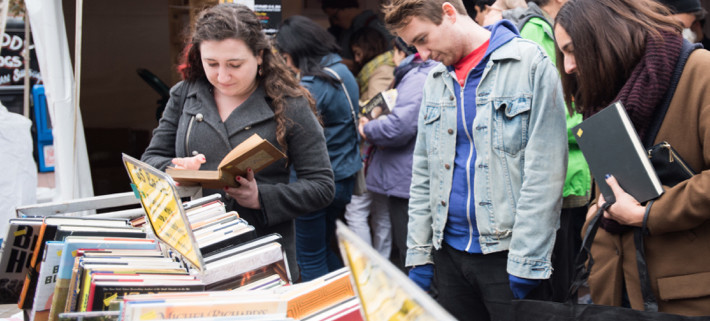 This year, we're wondering: What are you reading? We started by asking our staff for their current summer reading recommendations, below. And we'd love to hear from you too: use the hashtag #whatareyoureadingboston to join the conversation!
Deborah Z Porter, Founding Executive Director
I am reading Susan Faludi's extraordinary new book, In the Darkroom. It is a multi-layered exploration of identity prompted by the news from Faludi's estranged father that he had undergone sex reassignment surgery. The change from male to female is the starting point as Faludi investigates the puzzle that is her father. I was particularly fascinated by Faludi's description of the history of Jews in Hungary, where her father grew up, escaped death at the hands of the local Nazis, left for Brazil and then America, and to which he returned for the last decades of his life. As Faludi describes the time she spends with her father in Hungary post-op, she weaves into the narrative fascinating insights into her father's preoccupations—from trick photography to fairy tales to Hungarian nationalism.
Next on my list are books by Mychal Denzel Smith and Yaa Gyasi, who I recently heard at Porter Square Books and the Harvard Book Store, respectively. Mychal's book is Invisible Man, Got the Whole World Watching: A Young Black Man's Education. In it, he discusses growing up as a black male in America and confronts assumptions about black masculinity. Yaa's novel, Homegoing, follows two Ghanian half sisters—one who is sold into slavery and one who remains in Africa—down through the generations.
Norah Piehl, Deputy Director
I greatly enjoyed reading A. J. Hartley's new YA novel Steeplejack, which launches a new trilogy. Set in a world that looks very much like an alternative historical version of South Africa, Steeplejack tackles head-on the kinds of bigotry, class and race warfare, and identity politics that are all too relevant in the real world. And the best news is that this social commentary is placed in the context of a thrilling mystery plot, investigated by a truly unforgettable heroine.
I don't usually read a lot of memoirs, but I am always in awe of writers who can tackle the genre really well. That's certainly the case with Elisha Cooper, whose new memoir is Falling: A Daughter, a Father, and a Journey Back. Cooper, best known as an author-illustrator of picture books, here writes about what he learned about himself, his family, and about fatherhood in the wake of his four-year-old daughter's cancer diagnosis. Filled with tenderly beautiful prose and blessed with a hopeful ending, this book is a must-read for parents of all ages.
Next up on my list are We Could Be Beautiful by Swan Huntley and How to Set a Fire and Why by Jesse Ball, both of which feature complicated female protagonists.
Sarah Parker, Director of Operations
I'm about halfway through Girls On Fire by Robin Wasserman. The setting (the 90's) and the plot (intense teenage friendship) drew me in from the beginning, but now I'm hooked because there's also a mystery to be solved! I'm parceling out these last few chapters as I'm about to go on vacation and this is just the kind of book I want to be reading lakeside.
Next up for me: City on Fire by Garth Risk Hallberg and Brain on Fire by Susannah Cahalan.
Amanda Holman, BBF Intern
My current book is Anansi Boys by Neil Gaiman. It's a comical and enjoyable story about a middle aged man who finds out upon his father's death that his father was actually Anansi, the African trickster spider god. This sets in motion a series of events that lead the protagonist, Fat Charlie, around the world to discover strange things about himself and his heritage. A magical story grounded solidly in the reality of this world, it's a great summer read!
The second I'm reading is The Nest, by Cynthia D'Aprix Sweeney. A witty, ironic story about the dysfunctional Plumb siblings as they clamor to receive their inheritance, dubbed "The Nest," the story begins when Leo, the oldest sibling, threatens the inheritance through several personal mistakes. This book tells a story of character growth and development in one family through learning the many motivations and relationships that drive each sibling.
Samantha Strain, BBF Intern
I'm currently all about George Watsky's debut essay collection, How to Ruin Everything. As a fan of his work as a slam poet / spoken word artist / rapper, I've loved his prose work as well. Watsky's personal narrative draws on the same talents as his music—his sense for authentic humor, self-aware candidness, and descriptive observation. I couldn't put it down and ended up whipping through it in one day—half of it while waiting in line for his reading at Brookline Booksmith!
As part of this summer's reading list, I'm also working my way through Virginia Woolf's collected diaries. Her writing is lively, insightful, and as linguistically rich and creative as her more intentional published works, but what I like best about the diaries is Woolf's lack of restraint. Without the confines of an essay or novel, or expectation of readership, the entries show a brilliant mind in unstructured conversation with itself.
Veronica Moreno-Nestojko, BBF Intern
(R)evolution: The Girls Write Now 2016 Anthology w/ forward by Francine Prose
Featuring the works of young women this anthology presents insight into the next generation of writers and the theme of "(r)evolution" displays their dedication to their communities and activism. The Girls Write Now program helps young women writers develop their craft and find their voices, helping to shape the future of literature and the minds of young readers and writers.
Mr. Penumbra's 24-Hour Bookstore by Robin Sloan
This beautiful, buoyant novel blends technology and the out-of-date to create a brilliant mystery that envelops the reader within the secret societies and exciting discoveries of Clay Jannon and the bookstore he finds himself working in. It is an enjoyable, funny, and all around good natured read perfect for travelling, sitting in the sand, or curling up on your couch with.