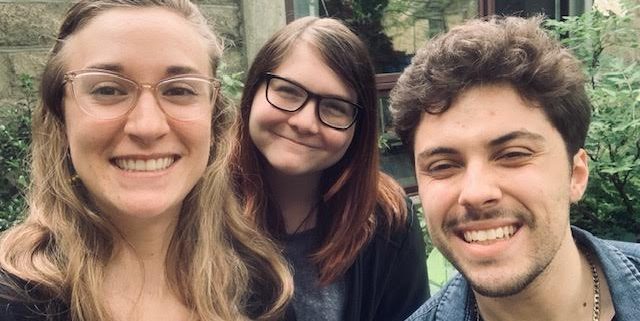 What is your favorite book and genre?
Kyle: My favorite book is actually a series of four, the Neapolitan Novels by Elena Ferrante. Ferrante is incredible in everything she does, and I think the series encapsulates everything her work sets out to do, which is to combine the personal and the political in a fiery narrative. Other than that, I'd reckon some of my other favorites are Doris Lessing's The Golden Notebook, Gabriel Garcia Marquez's One Hundred Years of Solitude, and Sylvia Plath's The Bell Jar. That being said, my favorite genre is probably literary fiction, but I'm also a sucker for a good YA novel.
Megan: I'm always torn when asked what my favorite book is. I usually pick three from different categories. My favorite book that I read for school is The Catcher in the Rye by JD Salinger, for Young Adult it's currently the Court of Thorns and Roses series by Sarah J Maas (though the Harry Potter series will always have a special place in my heart), and in general I adore A Discovery of Witches by Deborah Harkness. I'm currently reading the Song of Ice and Fire series by George RR Martin (the books that Game of Thrones was based on) and I can already tell it's going to be in my top five favorites once I'm caught up. Growing up I couldn't get enough of the Warrior Cats series by Erin Hunter as they were the books that made me actually like reading in the first place. As for genre, Young Adult Fantasy will always have my heart. Give me a story with some magic and romance and I'm all yours!
Katelynn: My favorite book is Herland by Charlotte Perkins Gilman. It is one of those books that I'm still thinking of years after reading it. They say to never judge a book by its cover, but let me tell you! Anyone looking at the mangled cover of my copy of Herland can tell it is extremely loved and constantly read. My favorite genres are Sci-Fi and Dystopian. I appreciate the freedom these genres allow writers to play with plot and themes. Plus I always finish a Sci-Fi or Dystopian novel with a new perspective of my own reality and self, which I think is especially important for the present time.
If you could meet any writer, dead or alive, who would it be?
Kyle: It's a weird choice, but I'd want to meet William Shakespeare. I'm studying to be a Shakespeare scholar later in my career, so my whole life is basically already devoted to him. There are so many mysteries surrounding his identity, work, and biography that'd I love to be able to sit down with him for a talk, just to hear what he has to say about art and life. Sure, his tragedies and histories and comedies have a life of their own, but if I had one wish it'd be to see the man behind this facade of greatness.
Megan: I would have to say JK Rowling. As much as I disagree with her on a lot of things that she has said about Harry Potter after it first came out, at the end of the day when I read those books it feels like I'm coming home. Her words have always found a way to make me feel at peace no matter what. I really would like to talk with her about a lot of the questions and theories that I have, as well as her experience as a writer in general. She really did a lot in the realm of literature, and culture in general, and I would love to get the chance to have a cup of tea with her and chat.
Katelynn: I think I would like to have a late evening dinner in the warm months of summer with Anne Frank, Mary Shelley, the authors of Curious George,H. A. Rey and Margret Rey, and Oscar Wilde. An interesting group I know, but I just want to sit down with each of them to express how much their words have meant to me and so many around the world. Then after dinner I'd like round out the night by going stargazing with Kurt Vonnegut and talk about the universe and the human experience with him.  
Favorite adaptation of a piece of literature?
Kyle: I'm a complete geek for HBO's Game of Thrones and can ramble on about it for days if you get me started. (Targaryen forever!) But I also adore Keira Knightley's Pride and Prejudice, which I think captures the Austen vibe perfect, through all her quirky plot points and complex, yet fascinating character portraits. Also, Knightley perfect depicts the Elizabeth Bennet spirit.
Megan: I absolutely adore Sleep No More, an immersive theater adaptation of Macbeth by Shakespeare and Rebecca by Daphne du Maurier. I've been to see it a few times now in NYC. Each experience is completely unique and I come away with a greater appreciation for the production as a whole, especially how they were able to take two pieces of literature and blend them together to form something new. The fact that I can interact with these characters and the set as part of the immersive experience has given me a better understanding of the original texts as well. I'll never forget Lady Macbeth whispering her "out, damned spot" monologue in my ear while comparing my hand to hers and leading me up a flight of stairs!
Katelynn: I will always love Baz Luhrmann's adaptations of Romeo and Juliet and The Great Gatsby. Both of those movies are so visually stunning and evoked the same emotion in me (aka I cried the moment the movie began) as the books did. Any adaptation of a children's book also makes me extremely emotional because my biggest passion is making sure the next generation has great stories that will impact their lives for the better. I thought the most recent adaptation of A Wrinkle in Time was brilliant, and I couldn't help but think of all the kids who had either read the book or would be begging their parents for it after watching the movie. Storytelling is so important so I am basically here for any book being adapted and therefore able to reach a larger audience.
Hobby outside of reading?
Kyle: Truthfully I don't really do much outside of reading! But jokes aside, I love to write: fiction, essays, poems, you name it. There's no feeling better than seeing my name in a byline or within a magazine, and I actually had a collection of short stories published in 2017 by my college's press! Other than that, I'm a huge fan of history and study it constantly on the side (see above: Shakespeare), plus philosophy and psychology. But I'm not always so serious: I spend hours watching YouTube Let's Plays and mukbangs—don't judge me!
Megan: I love to spend hours playing video games. It's a whole different form of storytelling that I can't get enough of. I love being able to be at the center and control the narrative. My favorites are usually story-based as a result, such as the Dragon Age series by Bioware (especially Inquisition). I actually wrote an entire paper analyzing the representation of elves in that series for my Research Writing class when I was a freshman! I also love Overwatch and have sunk in hundreds of hours playing as Mercy. On top of video games, I'm really into Dungeons and Dragons as well as it gives me time with friends and is another immersive outlet for storytelling. I typically play as an elf and rogue is my favorite class!
Katelynn: Ever since moving to Boston I have become a huge plant fanatic. I love watering my little plants and making sure they are happy. There is just something about coming home to a room full of plants. My favorite plant right now is my Royal Hustler Ivy because I love watching the vines grow longer. As a graduate student I have put effort into finding hobbies that really allow me to escape from the stresses of school. Cooking, singing, and dancing seem to always boost my mood and clear my mind. I'm big into soups and have gotten pretty good at making a wicked creamy tomato soup.  
What are you most excited for at the BBF?
Kyle: I may be cheating on this, since I'm its project manager, but I can't wait for One City One Story! I can't reveal too much, but I can say this year's story is beyond immersive, touching, and heartfelt, revealing bits of humanity that are both intimate and private. One aspect I love most about 1C1S is the fact that we distribute free copies, and providing this citywide access to all is something that is very close to my heart. I'm so excited for everyone to see what we have been working on for so long.
Megan: I really can't wait to meet and see the authors that I've been emailing! As the Author and Publisher Liaison intern, I've had a lot of communication with a wide variety of authors, publicists, and the like. Some of the authors I'm familiar with (I'm especially excited about the Young Adult authors that are coming) and others are new to me. I've really enjoyed being exposed to so many authors and I'm excited to meet them (and read their books in my free time). I wish I could be at every panel and event!
Katelynn: I'm a bit biased because I am the sole intern, but I am most excited for Lit Crawl Boston. I have poured my heart and soul into this event, and I am eager to see it all come together. I adore being a part of an event that helps to bring the community together while also helping to support local businesses and writers/performers. I have had the privilege of getting to correspond and work with some really inspirational people. It has been a lot of fun (and hard work) being so involved in planning Lit Crawl. I am most looking forward to seeing how attendees react to the different venues and their excitement for the different sessions as they "crawl" through Back Bay.