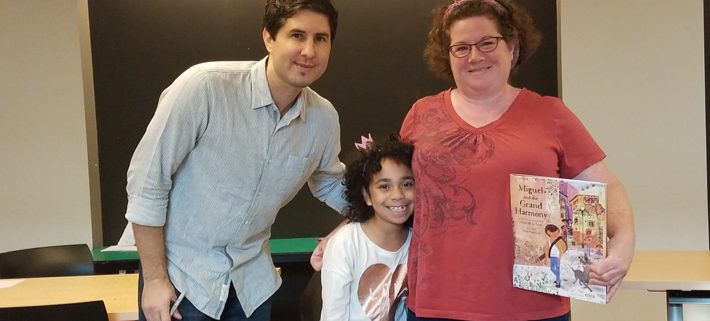 If you've been to the Boston Book Festival, you know it's like a whole thing, with authors, illustrators, vendors, volunteers, musicians, and maybe even a costume character or two flocking to historic, beautiful Copley Square, along with tens of thousands of booklovers just like you. But what you might not know is that we're also active citywide, partnering with other organizations to spark a love of reading among Bostonians young and old. We wanted to let you know about two of these programs that took place during BBF weekend!
Shelf Help at the Curley School
On Friday, the day before the BBF, Caldecott Medalist and Coretta Scott King Award winner Javaka Steptoe made a visit to the Curley School in Jamaica Plain. This K-8 school, part of the Boston Public Schools system, was the recipient of our 2017 Shelf Help initiative, which culminated with Javaka's memorable school visit, coordinated in partnership with the Wondermore organization. His presentations gave Curley school students a window into this brilliant illustrator, author, and artist's inspiration and artistic process and got them (even more) excited about the thousands of dollars' worth of brand-new books that will soon grace the shelves of their newly-reopened school library, thanks to the publishers and individuals who pitched in to donate books and funds via the BBF's Shelf Help initiative. Special thanks to the Shah Foundation and Connie Coburn, as well as to Candlewick Press, HarperCollins, Houghton Mifflin Harcourt, and Penguin Young Readers for their substantial support, and to the Children's Book Shop of Brookline for encouraging customers to donate at the store!
Mini-BBF at East Boston Branch Library
This year, readers could hop on the Blue Line and ride to a mini–Boston Book Festival, thanks to a new partnership with the Boston Public Library. The beautiful new East Boston Branch of the BPL hosted plenty of bookish fun, including a visit and storytime with Curious George as well as kids' workshops with local author James DeMarco and Newbery Medalist Matt de la Peña, plus a discussion of One City One Story and (thanks to the magic of Facebook live), the BBF's cookbook session livestreamed from Copley Square. We were pleased to be able to give each of the participants in Matt's workshop a brand-new copy of his new picture book, Miguel and the Grand Harmony, and we are grateful to the library staff and volunteers for helping us produce and promote the event. We hope to expand this program in coming years, so let us know if your neighborhood would like to work with us to host your own mini-BBF!