Announcements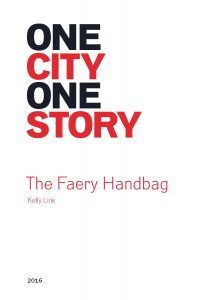 We are pleased to announce that the One City One Story selection for 2016 is Kelly Link's "The Faery Handbag." Distribution will begin August 22.
We hope you will love this fantastic(al) story by Massachusetts author Kelly Link. Please join us for our 1C1S Town Hall at the BBF on October 15 to discuss the story with other readers, moderator Alicia Anstead, . . . and Kelly Link herself!
We would also like to thank Bookbub, which has generously funded the One City One Story project, and Zipcar, whose support allows us to distribute copies of the stories throughout Boston's neighborhoods.
About Kelly Link:
Kelly Link is an author and editor of short stories for adults and teens. She has won a Hugo award, three Nebula awards, and a World Fantasy Award, among other honors. Her short stories have been published in The Magazine of Fantasy & Science Fiction, The Best American Short Stories, and Prize Stories: The O. Henry Awards. Link's most recent collection is the Los Angeles Times bestseller Get in Trouble, a finalist for the 2016 Pulitzer Prize. "The Faery Handbag" appears in Link's collections Pretty Monsters and Magic for Beginners.
About 1C1S
The mission of the Boston Book Festival is to celebrate the power of words, to promote a culture of literature and ideas, and to enhance the vibrancy of the city of Boston, and in 2010 we launched One City One Story to do just that. One City One Story is the BBF's version of an all-city read, but instead of a book, we print and distribute a short story. Our goal is to make a short story available to all, free of charge, to spread the joy of reading for pleasure among the teens and adults of our city, and to create a community around a shared reading experience.
Background:
In 2010, One City One Story's inaugural year, we distributed thousands of free copies of Tom Perrotta's story, "The Smile on Happy Chang's Face," offered online translations and downloads, and led citywide discussions leading up to a town-hall style discussion with the author at the Boston Book Festival, hosted by Alicia Anstead, editor in chief of the Harvard Arts Blog and Inside Arts magazine. The next year, we held library discussions of the 2011 selection, Richard Russo's "The Whore's Child," distributed the story throughout the city, offered the story in four different languages, and held a writing contest for the public. In 2012, we held an online reading group for the first time, in addition to library discussions, and a special discussion with Anna Solomon. Additionally, we offered a printed version in Spanish for the first time and provided the story in four different languages electronically.
Previous 1C1S Selections:
2015: "Home Movie" by Jennifer De Leon
2014: "Sublimation" by Jennifer Haigh
2013: "Karma" by Rishi Reddi
2012: "The Lobster Mafia Story" by Anna Solomon
2011: "The Whore's Child" by Richard Russo
2010: "The Smile on Happy Chang's Face" by Tom Perrotta
Find the Story
Local Places and Events
Find "The Faery Handbag" somewhere near you! We will be distributing copies at the following locations and events starting August 22. We hope to see you soon!
Starting at the end of August, copies will be available at:
All branches of the Boston Public Library
*Spanish edition available at:
Central Library 
Connolly
East Boston
Egleston Square

All branches of the Cambridge Public Library
*Spanish edition available at:
Allston:
Bookistan
Buffalo Exchange
Coreanos
Five Guys
Infusion Tea Spa
Jojo Taipei
Korean Garden
Kungfu Tea
Mala
Padaria Brasil Bakery
Soulfire
Spike's Junkyard Dogs
Amesbury:
Arlington:
Arlington Centered
Brick Stone Pizza
Computer Cafe
Gail Ann Coffee Shop
Magic Dragon Comics
Papa Gino's 
Robbins Library
Starbucks
Sweet Chili
The Artful Heart
The Chilly Cow
Wood and Strings
Back Bay:
Barnes and Noble – Prudential Center
Ben & Jerry's
Dig Inn
Fomu – pop-up on Newbury
Mother Juice
Newbury Comics
Pavement Coffeehouse – all Back Bay locations
Shake Shack
Starbucks – Berkley & Boylston
Starbucks – upper Newbury St.
Teuscher Chocolatier
The Fairy Shop
Trident Booksellers & Cafe
YMCA – Huntington Avenue
Beacon Hill:
Black Ink
Black Stones
Moxie
Ninos Pizza
Ouimille
Panificio Bistro and Bakery
Rugg Road
Soo Dee
Starbucks – 97 Charles Street
Sweet
The Flat of the Hill
That's It Gifts
Upper Crust
Becket:
Belmont:
Billerica:
Brighton:
Athan's Bakery
Cafe Mirror
Dunkin' Donuts – N. Beacon Street
La Befana
Treats on Washington
4A Coffee
Brockton:
Brookline:
Boston General Store
Brookline Booksmith
Brookline Public Library – Cooldige Corner
JP Licks
Kabloom 
Kolbo Fine Judaica
Kuple's Bakery
New England Comics
Otto
Peet's Coffee & Tea
Public Library of Brookline – Main Branch
Starbucks – Cooldige Corner
Starbucks – Harvard St.
Trader Joe's
The Paris Creperie
Zaftigs
Cambridge:
All Star Pizza Bar
All Star Sandwhich Bar
Beantown Taqueria
Beauty's Pizza
Bon Me
Boomerang's
Boutique Fabulous
Central Language Center
Chicago Pizza
Christina's Homemade Icecream
Cosi -Kendall Square
Curious George Store
Dunkin' Donuts
Falafel Corner
Flat Patties
Flour
Franco's Hair Studio
Gather Here
Grolier Poetry Book Shop
Harvard Bookstore
JP Licks
Life Alive
Liquiteria
Mainely Burgers
Mariposa Bakery
MIT Press Bookstore
Olecito
Out of Town News
O2 Vegan Cafe
Pandemonium Books and Games
Porter Square Books
Rodney's Bookstore
Starbucks – Central Square
Starbucks – Kendall Square
Tattte
Tealuxe
Ten Thousand Villages
The Friendly Toast
The Garment District
The Ginger Exchange 
The Harvard Coop
Toscanini's Ice Cream
Veggie Galaxy
YMCA
Zinneken's
Zoe's Cafe
1369 Coffee – Central Square & Inman Square
Canton:
Carlisle:
Chelmsford:
Chelsea:
Chinatown:
Cuong's Vegan
Sakura Sunaku
Spicy World
The Juice Bar
101 Bakery
163 Vietnamese Sandwich
Clinton:
Cohasset:
Dedham:
Dennis:
Downtown:
Boston Common Coffee Company – Washington Street
Brattle Bookshop
Cafe Nero – Washington Street
GrubStreet
Jaho Coffee & Tea
Otis House
Sal's Pizza – Tremont St.
Starbucks – 62 Boylston St.
East Bridgewater:
East Bridgewater Public Library
East Brookfield:
East Brookfield Public Library
Erving:
Financial District:
Espresso Love
Boston Common Coffee Company
Brueggers Bagels
Dunkin' Donuts – Broad Street
Dunkin' Donuts  – India Row
Dunkin' Donuts – Summer Street
Flat Black Coffee
Kane's Donuts
Nunzio's Pizza
Panera
Starbucks – Broad Street
Starbucks – Summer Street
Starbucks – The Boston Harbor Hotel
Sweetgreen – Summer Street
Fitchburg:
Framingham:
Whittemore Library – Framingham State University
Hingham:
Holliston:
Hyde Park:
Kingston:
Lowell:
Malden:
Manchester:
Maynard:
Melrose:
Millbury:
Nahant:
Natick:
Needham:
Newton:
Aji
George Howell
Great Harvest Bread Co.
Los Amigos
Nail It
Newton Free Library
Newtonville Pizza
Rancatores
Starbucks
North End:
Anthony's Cafe on the Waterfront
Boston Common Coffee Company – Canal Street
Boston Common Coffee Company – Salem Street
Caffe Vittoria
Pauli's
Peets Coffee – Salem Street
Starbucks – 2 Atlantic Avenue
The Juicery
The Thinking Cup – Hanover Street
Northampton:
Peabody:
Peabody Institute Library – South Branch
Pittsfield:
Berkshire Medical Center Health Science Library
Plympton:
Quincy:
Thomas Crane Public Library
Wollaston Branch Library
Rockland:
Roxbury:
Salem:
Sharon:
Southborough:
South End:
Around the Corner
Cafe Nero
Emilio's Pizza
K9 Strolls
Mop Hair Salon
Niche
Olives and Grace
Skoah
Uniform
Somerville:
Bow Street Flowers
Diesel Cafe
Grooves
Petsi Pies
Ricky's Flower Mart
Sherman Cafe
Thai Hut
The Biscuit
The Kebab Factory
Union Square Donuts
South Hadley:
South Hamilton:
Hamilton-Wenham Public Library
Stoughton:
Swansea:
Wakefield:
Waltham:
Westhampton:
West Barnstable:
Wilkens Library – Cape Cod Community College
West Springfield:
West Springfield Public Library
Weymouth:
Wilbraham:
Williamstown:
David & Joyce Milne Public Library
Winthrop:
Winthrop Public Library and Museum
Woburn:
More neighborhood locations will be added soon!
Distribution Schedule:
Sunday, September 11
Cambridge Carnival
Thursday, September 15
Taste of JP

Sunday, September 18
Boston Local Food Festival
Saturday, September 24
Berklee BeanTown Jazz Festival
Sunday, September 25
South End Open Studios
Monday, October 10
Fenway Opening Our Doors
Participate
Local Discussions
WBUR will be hosting a discussion of "The Faery Handbag" on September 28 as part of the WBUR-BBF Summer Book Club.
Please check back in for updates regarding additional discussions in the greater Boston community.
Discussion Questions
1. How did the jump between times/focuses affect your reading of the story?
2. Was Jake's decision to go into the bag justified? Why or why not? Why do you think Zofia refused to let Genevieve go after him?
3. After Zofia dies Genevieve becomes the official heir and guardian of the bag. What does this role mean if the bag is lost? 
4. Genevieve is a headstrong teenager entirely wrapped up in thoughts of her missing boyfriend and the fantastical world her grandmother taught her about. Does this make it difficult for you to sympathize with her or trust her as a narrator? Why?
5. What lost item (like the Sesame Street shirt) would you like to find at The Garment District? What is the significance to you of finding something you thought was lost forever?
6. How might this story have changed if Jake had not gotten expelled and MIT had not rescinded his acceptance?
7. What is the importance of Scrabble tiles also acting as divination tiles in the story? Does it affect the way you read Zofia and Genevieve's relationship to the game?
8. What do you think will happen to Genevieve after this story ends?
9. Does Zofia's death (or absence, if you follow the thought that she didn't actually die) force Genevieve to act differently than she would have before? If so, what is the difference? 
10. Do the characters in this story remind you of people you know? Is this affected by the familiar setting (greater Boston). Does this change the way you read the fantastical elements of the story? How?
Writing Prompt
In 500-700 words describe what you would expect or hope to see after disappearing into your own faery handbag for several decades. Email your story to info@bostonbookfest.org by Friday, October 7 (deadline extended!) for a chance to win a BBF prize package, including a signed copy of this year's story!
Additional Readings
Stay tuned!
Contact
Ask a question. Let us know what you think.
The Boston Book Festival
32R Essex St. Suite 5
Cambridge, MA 02139
P: 857-259-6999
FB: 1C1S
T: @1city1story (#1C1S)
Media
News media requiring additional information should contact:
Ami Bennitt
Motor Media
T: (617) 797-8267
E: ami.bennitt@gmail.com
One City One Story Project Manager
Veronica Moreno-Nestojko
1C1S Committee
Alicia Anstead, Callie Crossley, William Giraldi, Nicole Lamy, Henriette Lazaridis, Ladette Randolph, and Christina Thompson.
Readers
Elisa Birdseye, Mark Krone, Nadine Frassetto, Niki Marion, Katie Murphy, Santiago Nocera, Sheila Scott, and Jennifer Sulc.
One City One Story Translators