Announcements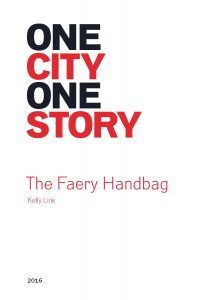 We are pleased to announce that the One City One Story selection for 2016 is Kelly Link's "The Faery Handbag." Distribution will begin August 22.
We hope you will love this fantastic(al) story by Massachusetts author Kelly Link. Please join us for our 1C1S Town Hall at the BBF on October 15 to discuss the story with other readers, moderator Alicia Anstead, . . . and Kelly Link herself!
We would also like to thank Bookbub, which has generously funded the One City One Story project, and Zipcar, whose support allows us to distribute copies of the stories throughout Boston's neighborhoods.
About Kelly Link:
Kelly Link is an author and editor of short stories for adults and teens. She has won a Hugo award, three Nebula awards, and a World Fantasy Award, among other honors. Her short stories have been published in The Magazine of Fantasy & Science Fiction, The Best American Short Stories, and Prize Stories: The O. Henry Awards. Link's most recent collection is the Los Angeles Times bestseller Get in Trouble, a finalist for the 2016 Pulitzer Prize. "The Faery Handbag" appears in Link's collections Pretty Monsters and Magic for Beginners.
About 1C1S
The mission of the Boston Book Festival is to celebrate the power of words, to promote a culture of literature and ideas, and to enhance the vibrancy of the city of Boston, and in 2010 we launched One City One Story to do just that. One City One Story is the BBF's version of an all-city read, but instead of a book, we print and distribute a short story. Our goal is to make a short story available to all, free of charge, to spread the joy of reading for pleasure among the teens and adults of our city, and to create a community around a shared reading experience.
Background:
In 2010, One City One Story's inaugural year, we distributed thousands of free copies of Tom Perrotta's story, "The Smile on Happy Chang's Face," offered online translations and downloads, and led citywide discussions leading up to a town-hall style discussion with the author at the Boston Book Festival, hosted by Alicia Anstead, editor in chief of the Harvard Arts Blog and Inside Arts magazine. The next year, we held library discussions of the 2011 selection, Richard Russo's "The Whore's Child," distributed the story throughout the city, offered the story in four different languages, and held a writing contest for the public. In 2012, we held an online reading group for the first time, in addition to library discussions, and a special discussion with Anna Solomon. Additionally, we offered a printed version in Spanish for the first time and provided the story in four different languages electronically.
Previous 1C1S Selections:
2015: "Home Movie" by Jennifer De Leon
2014: "Sublimation" by Jennifer Haigh
2013: "Karma" by Rishi Reddi
2012: "The Lobster Mafia Story" by Anna Solomon
2011: "The Whore's Child" by Richard Russo
2010: "The Smile on Happy Chang's Face" by Tom Perrotta
Download the Story
Additional translations coming soon!
Participate
Local Discussions
WBUR will be hosting a discussion of "The Faery Handbag" on September 28 as part of the WBUR-BBF Summer Book Club.
Please check back in for updates regarding additional discussions in the greater Boston community.
Discussion Questions
1. How did the jump between times/focuses affect your reading of the story?
2. Was Jake's decision to go into the bag justified? Why or why not? Why do you think Zofia refused to let Genevieve go after him?
3. After Zofia dies Genevieve becomes the official heir and guardian of the bag. What does this role mean if the bag is lost? 
4. Genevieve is a headstrong teenager entirely wrapped up in thoughts of her missing boyfriend and the fantastical world her grandmother taught her about. Does this make it difficult for you to sympathize with her or trust her as a narrator? Why?
5. What lost item (like the Sesame Street shirt) would you like to find at The Garment District? What is the significance to you of finding something you thought was lost forever?
6. How might this story have changed if Jake had not gotten expelled and MIT had not rescinded his acceptance?
7. What is the importance of Scrabble tiles also acting as divination tiles in the story? Does it affect the way you read Zofia and Genevieve's relationship to the game?
8. What do you think will happen to Genevieve after this story ends?
9. Does Zofia's death (or absence, if you follow the thought that she didn't actually die) force Genevieve to act differently than she would have before? If so, what is the difference? 
10. Do the characters in this story remind you of people you know? Is this affected by the familiar setting (greater Boston). Does this change the way you read the fantastical elements of the story? How?
Writing Prompt
In 500-700 words describe what you would expect or hope to see after disappearing into your own faery handbag for several decades. Email your story to info@bostonbookfest.org by Friday, September 30 for a chance to win a BBF prize package, including a signed copy of this year's story!
Additional Readings
Stay tuned!
Contact
Ask a question. Let us know what you think.
The Boston Book Festival
32R Essex St. Suite 5
Cambridge, MA 02139
P: 857-259-6999
FB: 1C1S
T: @1city1story (#1C1S)
Media
News media requiring additional information should contact:
Ami Bennitt
Motor Media
T: (617) 797-8267
E: ami.bennitt@gmail.com
One City One Story Project Manager
Veronica Moreno-Nestojko
1C1S Committee
Alicia Anstead, Callie Crossley, William Giraldi, Nicole Lamy, Henriette Lazaridis, Ladette Randolph, and Christina Thompson.
Readers
Elisa Birdseye, Mark Krone, Nadine Frassetto, Niki Marion, Katie Murphy, Santiago Nocera, Sheila Scott, and Jennifer Sulc.
One City One Story Translators