Exhibit at BBF's New Virtual Marketplace
2020 is a year like no other, but we're not letting it prevent us from putting on a world-class book festival this fall. The Boston Book Festival will take place online throughout October, and we plan on making it a month to remember. We're busily planning engaging author talks, interactive children's sessions, poetry readings, and topical discussions that will take on the most pressing issues of the day. Audiences will be able to enjoy the festival sessions from the comfort of their living rooms – in Boston and beyond. 
We're so jazzed about what's to come in October that we wanted to find a way to give BBF exhibitors an opportunity to continue to connect with our smart, thoughtful audience members – and this time, potentially, to audiences across the country and globe. 
That's why we've launched the first-ever BBF Virtual Marketplace. The online center provides exhibitors with a virtual space to showcase your business during the Boston Book Festival Online from October 5–25, 2020.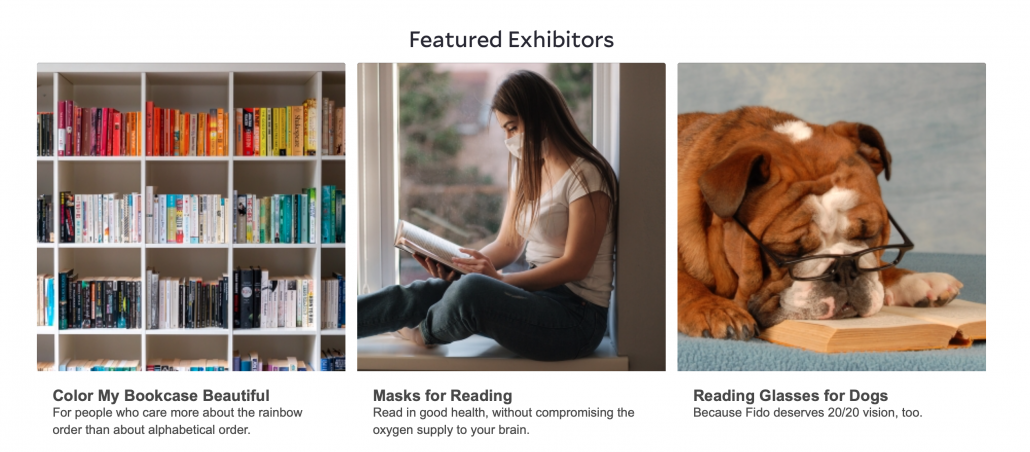 Virtual Marketplace Pricing Options 2020
We've developed tiered pricing options for our 2020 Virtual Marketplace to allow you to choose the level of visibility that works best for your organization this year. 
Basic – $50 
Your organization will be featured among other Exhibitors with an image selected by you and brief text (less than 100 words) about your organization. The image will link to a URL of your choice (an organizational website is most common), where visitors can find more information about your services and products.
Featured – $150 – SOLD OUT
Your organization will be featured at the top of our Virtual Marketplace page in one of just six "Spotlight" spots for one week during the BBF online dates, October 5-25. The Spotlight spaces offer slightly larger images to make your organization stand out even more. Additional weeks may be purchased for $100 per week to continue to feature your organization at the top of our Virtual Marketplace. 
Premier – $250 – SOLD OUT
In addition to having your organization featured in the Virtual Marketplace's "Spotlight" section for one week, you will also be featured in a BBF Q&A blog post. This blog post will give your organization the opportunity to talk more about your work and highlight key areas to BBF audience members. The blog post will be featured in our newsletter, which is circulated to a mailing list of 14,000 subscribers.
Apply now by filling out this application.
Applications and Deadlines
To become a part of BBF's 2020 Virtual Marketplace, apply here. Note that preference for Featured and Premier options will be given to returning exhibitors and organizations with a strong literary theme and interest. Applications must be received by September 1, 2020. We strongly encourage those interested in Featured and Premier options to submit applications as early as possible, as we anticipate these slots to fill up quickly.
All applications will be reviewed on a rolling basis. You will hear from us within two weeks of submitting your application.
Frequently Asked Questions
What will BBF's Virtual Marketplace look like?
Check it out here and see how your organization could be featured!
Who can exhibit?
We will review all applications. Strong preference, especially for Premier and Featured spots, will be given to returning exhibitors and organizations with a literary theme or focus.
How many vendors will there be in the Virtual Marketplace?
We don't know yet! In any given year, we have dozens of exhibitors in our lively street fair and often have to turn away many applicants due to limited space. But those issues are gone this year! We hope the Virtual Marketplace brings the same diverse array of exhibitors and many more for our audience members to connect with and browse through as they attend BBF online events in October 2020.
How can my organization stand out?
The Premier and Featured options provide a way for your organization to gain more visibility. For the Basic level, we will have a "sort" feature, so visitors can search by categories.
How many visitors do you anticipate to the Virtual Marketplace?
We are hoping for lots of visitors, but this is our first year and an experiment for us, which is why we've kept the pricing to a modest amount. The Boston Book Festival has a large online following already (12k Twitter and Facebook followers), and we typically get 55k+ website visitors during the month of October. We will also be promoting the Virtual Marketplace in all our communications (see below).
How will the Virtual Marketplace be promoted?
Good question! The Virtual Marketplace will be featured in all our communications materials about the Boston Book Festival Online, including press releases, regular newsletters, schedule/brochures, and on social media. We plan to give the Virtual Marketplace a lot of hype, and we're excited we can do that for the full month of October (rather than just over a weekend like a normal BBF). The Virtual Marketplace will be featured prominently on the Boston Book Festival's website homepage.
Can we upgrade our level after we've already signed up?
Yes! If there is still space in the Premier and Featured sections, then we will review your application for the upgraded level. You can contact Carlin Carr at carlin@bostonbookfest.org at any time to discuss.
For how long will the Virtual Marketplace run?
The Virtual Marketplace will be hosted for the same duration as the BBF Online, from October 5-25, 2020.
Will the Virtual Marketplace be a part of future festivals?
We are excited to see how this benefits our exhibitors, but we will be VERY happy to see all of you at your exhibitor booths in the fall of 2021. 
Still have questions? We're happy to answer them! Please contact Carlin Carr, BBF's Director of Operations and Outreach, at carlin@bostonbookfest.org.