"This is the best day of my life!": A Second-grader on Shelf Help's Author School Visit

One of Boston Book Festival's beloved annual community initiatives is the Shelf Help Program, which provides books to school libraries in need. Librarians apply to the competitive program and two schools are selected among the applicants to receive 50 high-quality books. In addition, BBF partners with Wondermore, a local non-profit dedicated to inspiring young readers, to bring celebrated authors to the winning schools for a memorable visit. 
We talked with librarian Erica Pastor, of the Orchard Gardens K-8 Pilot School in Roxbury, who won last year's Shelf Help competition and enjoyed a lively school visit from children's author and illustrator Brendan Wenzel. She shared more about her library's needs, why the Shelf Help program was an important boost to its shelves, and how music came alive during Brendan's visit!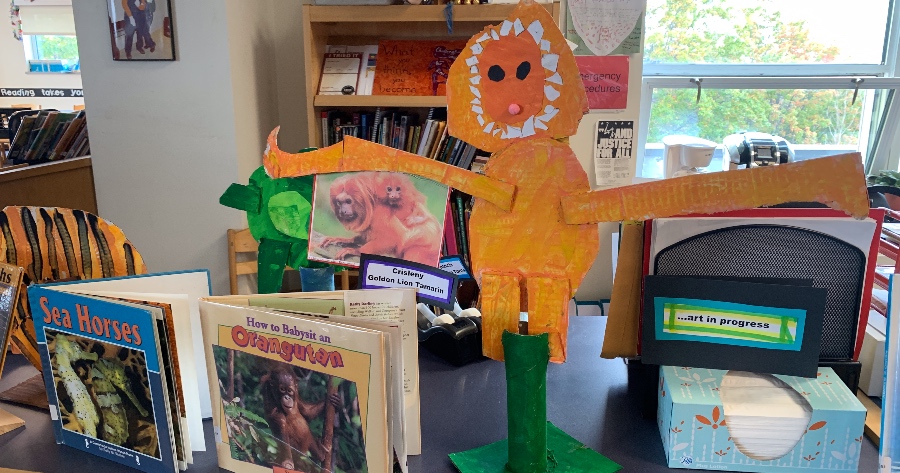 How did you learn about Shelf Help and what prompted you to apply?
EP: The Director of Library Services, Debbie Froggatt, shared the Shelf Help application with us school librarians in Boston Public Schools. I was in my first year as the school librarian at Orchard Gardens and had spent most of my time that year decluttering the library in addition to teaching classes full-time. But I was starting to also get an idea of how the collection should be developed, and I thought the Shelf Help grant would help me start to add books to the collection that students really wanted to read. 
Could you describe your library, its needs, and its role in your school?
The library at Orchard Gardens K-8 Pilot School is located on the third floor in the east wing of the school. The massive floor-to-ceiling windows flood the library with natural light and afford a spectacular view of downtown Boston. Sturdy, wooden bookshelves, packed full of books, line the walls, and others partition the huge open spaces into separate workspaces. These workspaces consist of spacious tables and chairs. 
The library collection is extensive, but it is at least twenty years out of date. While some books, especially in the fiction section, will always be valued parts of the collection, others, especially the nonfiction, are pretty useless. Some of our books about computers, for example, are more than a quarter-century old. They are kind of fun to look at and show kids what computers used to be like, but other than that, they should probably be thrown out immediately.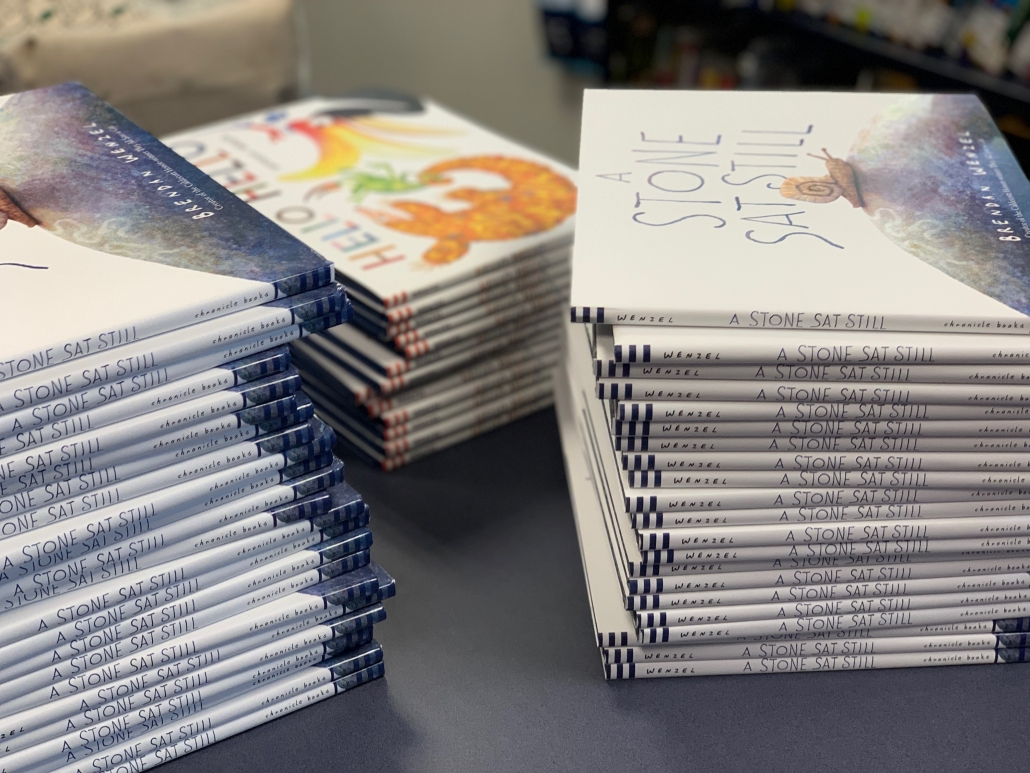 Even the books about animals need to be replaced. Many animals have had their habitats, food sources, and status as endangered species changed over the last fifteen years. And we are also in dire need of a huge graphic novel collection. Any graphic novels I have acquired fly off the shelves in less than five minutes. There are no checked-in graphic novels. And these are the books the kids want. For many, graphic novels are their gateway into reading. 
The library has become a space where the entire student body can visit to check out books, browse, do homework, enjoy some quiet space, or help out. It is quickly becoming the hub of the school, as more and more students and teachers realize what a special place it can be, but the collection needs to be constantly updated and we also need various technology devices. 
How did you choose your "wish list" books and what do you hope new titles will bring to your library?
Besides graphic novels, middle schoolers love reading books about characters who are their age or in high school and are struggling with the same issues they have in their lives. Or they love reading about these same types of characters having adventures that they themselves would like to have. They want to read books that tell stories that are not usually told. About a high school girl who wants to enter the beauty pageant at her school but does not think she will win because her skin is too dark. Or the story of a young man who thinks his duty is to avenge his brother, who was shot dead in the neighborhood. Or the book that is told by a red oak tree named Red, who is the community wishtree and tries to find a friend for a lonely girl that lives next door. 
These books are all on the current Project Lit book lists. Project Lit is a reading movement started by high schoolers and their English teacher in Nashville, Tennessee, and there are currently over 600 Project Lit chapters across the country. Each year, youth and their teachers/librarians vote for a list of diverse books that they want to have on the Project Lit lists of the year. 
And these are the books that I selected for our "wishlist." I have posters of these books on the front desk in the library, and they have become immensely popular with the older students. They come in, point to a book on the poster, and say, "I want to read that one," or "Ms. Pastor, do you have this book?" Having all of those books in the collection is a way to boost motivation for reading. 
Tell us your favorite part of the author visit!
Brendan Wenzel's visit was a huge success, and one of the outstanding highlights of the year. One of our visual arts teachers had her second graders make 3D animals from Mr. Wenzel's Hello, Hello book, which features a variety of endangered species from around the world. Then, the strings teachers worked with his students to develop sounds for each of the animals on the violins, cellos, and percussion instruments. The animal artwork was displayed around the library, and Hello, Hello was projected on the wall.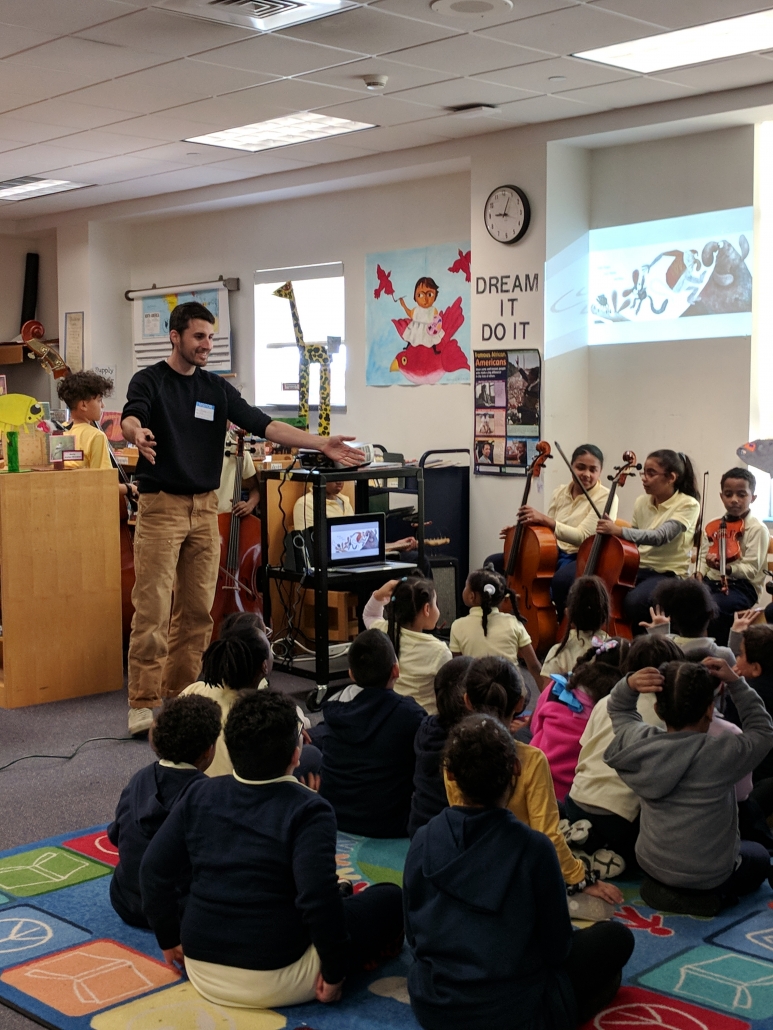 As Mr. Wenzel read the book, the strings students played the sound effects for each animal. Mr. Wenzel was clearly moved, exclaiming more than once, "Wow! This is so cool! I've never done anything like this before!" 
A 2nd grader sitting next to me said, "This is the best day of my life!" It really was an afternoon to be treasured. The pure joy and creativity of it all was such an inspiration to me to bring many more authors to visit our students and to significantly expand my collaboration with the arts teachers. 
Read more about BBF's Shelf Help program and donate to Shelf Help by designating it as the gift recipient. If you have any questions, please contact Carlin Carr at carlin@bostonbookfest.org.