Win a Vespa at BBF 2016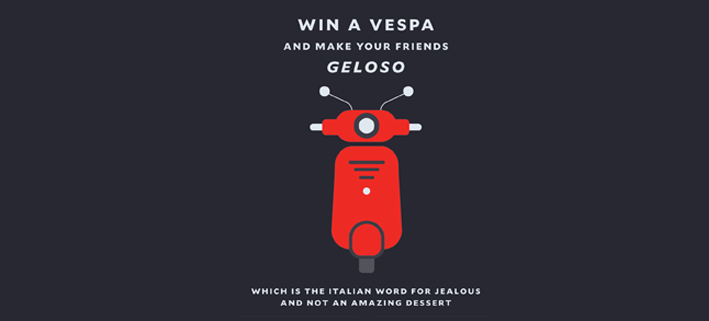 If a book is food for your mind, a Vespa is an espresso machine for your body–and we're bringing the two together at BBF 2016! Thanks to a generous donation from Piaggio Fast Forward, we are running our first-ever fundraising raffle at the BBF. The winner will receive a brand-new Vespa Sprint 150 (in "BBF Red," of course)! Tickets are $10 and will be available only at the BBF on October 15 or at our kickoff event on October 14. Buona fortuna!
Update 10/20/2016: Congratulations to C. Clements of Boston, the winner of the Vespa raffle! Thanks to all who bought tickets to support the BBF!
1. You must be 18 yrs old or over to buy a ticket
2. The drawing will be held on October 15 at 5:15. Winner need not be present to win. The winner will be announced on the outdoor stage, the winning ticket will be displayed on our Facebook page, and the winner's name will be tweeted out on the 15th. The winner has until Monday, October 17 at 5:00 PM to claim the prize. You must present the winning ticket stub in person either at the BBF on the 15th or at the offices of the BBF on Monday, October 17th. If the winner cannot be identified, an alternate winner will be declared.
3. All federal, state and local income taxes are the sole responsibility of the winner. The taxable value of the prize will be treated as ordinary income to the winner.