Spring Online Event Series
In an ordinary year, we host a series of intimate dinners with authors, unique and memorable fundraising events that support the Boston Book Festival and help bring our free celebration of books to Copley Square and Nubian Square each October. 
But as we all know, this is no ordinary year. So we're shifting our spring event series online on three evenings in May and June and opening them up to the entire book-loving community.
There is no charge to register, but we hope you'll consider making a donation of $20 or more to support our year-round programming and help keep our organization strong and thriving during these challenging times.
Hungry? We are pleased to partner with our longtime caterer The Catered Affair to offer BBF fans a discounted rate and lower delivery minimums ($75) for their Family Meals ordered in conjunction with our spring event series. You can enjoy a delicious multi-course dinner for two, delivered throughout Greater Boston. The Catered Affair has developed two very special seasonal menus—one featuring salmon and a vegetarian option featuring an artichoke tart—especially for our spring event series attendees! Enter discount code BBF2020 at checkout and save 15% on any order! Visit their menus and place your order today!
Sign up for one or more of these memorable conversations on Crowdcast today!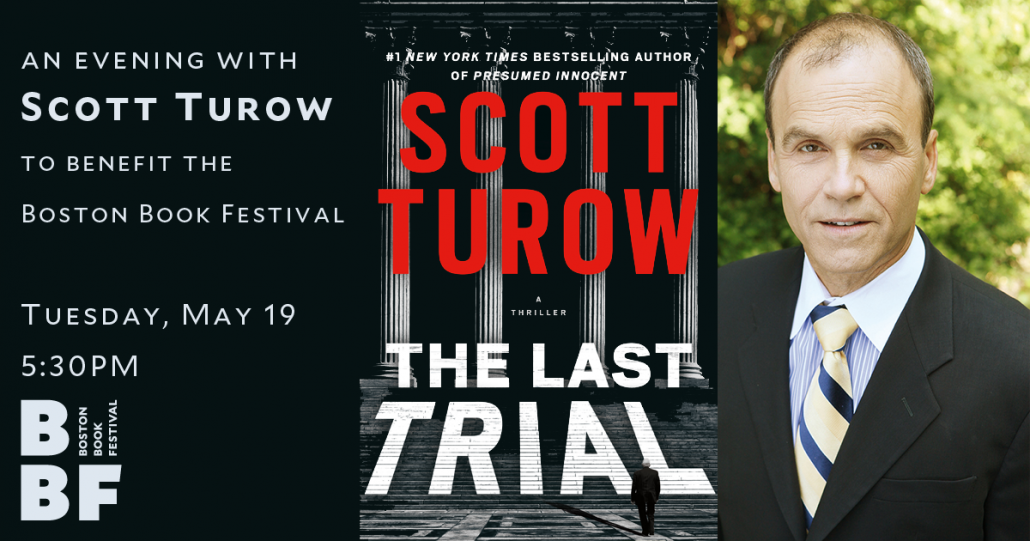 An Evening with Scott Turow
Tuesday, May 19 **NOTE REVISED DATE**
5:30pm
Scott Turow has had a dynamic career as a criminal lawyer, an author of legal thrillers, and a political commentator. His eleven bestselling works of fiction include Presumed Innocent and The Burden of Proof. Turow's recent Vanity Fair article, "A Crime in Public View," examined Trump's motivations in obstructing the Mueller investigation. His latest novel, The Last Trial, concerns a celebrated defense lawyer and his lifelong friend, a Nobel Prize–winning doctor accused of murder.
Turow will be interviewed by William Alford, the Jerome and Joan Cohen Professor at Harvard Law School . . . and Scott Turow's roommate when they both attended Amherst College.
Whether you seek insight into the judicial conundrums facing our country or you just can't get enough of Turow's thrillers, sign up for this event with the charming and multi-talented Scott Turow.

An Evening with Katherine Gehl and Michael Porter
Wednesday, May 27
5:30pm

Katherine Gehl is a business leader, author, and the former president and CEO of Gehl Foods, a $250 million high-tech food manufacturing company in Wisconsin. Over the past decade, Katherine has focused on the urgent need for nonpartisan political innovation in America. Michael Porter is the father of modern business strategy and the most cited academic in business and economics. His seminal work, Competitive Strategy, proposed a framework for analyzing industries that has been the definitive approach to business strategy for decades. In 2016 Gehl asked Porter to join her work, and together they published a seminal Harvard Business School report on the nature of competition in politics. They have broadened that work into a book, The Politics Industry: How Political Innovation Can Break Partisan Gridlock and Save Our Democracy, which will be released on June 23rd. They have also agreed to donate the proceeds of the book to The Institute for Political Innovation, the organization Katherine has founded to pursue targeted changes to our political system. You will come away encouraged by their ideas for powerful, practical, and achievable solutions.

An Evening with Dani Shapiro
Wednesday, June 3
5:30pm
Dani Shapiro is the bestselling author of five memoirs, including Slow Motion and Devotion, as well as five novels. Her latest memoir, Inheritance, reveals how she learned a devastating family secret as the result of a genealogy test. Shapiro writes the complex ethical issues raised by new technology and movingly connects them with her own experience. A New Yorker piece called Inheritance "(An) engrossing, compassionate memoir… As in the best writing on the self, the point is the integrity of her search." Join us for this rare opportunity: an intimate conversation with a beloved author who has fearlessly explored the depths of identity. hapiro will be interviewed by consummate interviewer Callie Crossley, host of Under the Radar on WGBH radio.