Neighborhood Festivals: East Boston and Roxbury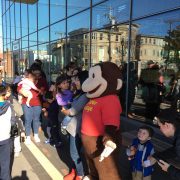 This year, the Boston Book Festival is excited to bring its celebration of reading and writing to the vibrantly diverse neighborhoods of East Boston and Roxbury. The full-day festivities—both of which are free and open to the public—will happen on the same day as the Copley Square main stages on October 13, 2018, and will provide a rare opportunity to celebrate local authors alongside well-known writers from around the country.
The neighborhood festivals build off last year's successful pilot at the East Boston branch of the Boston Public Library. The stimulating lineup included a visit by Curious George, writing workshops by award-winning authors, live streams from the Copley festival, fiction discussions, craft activities, and lots more.  The neighborhood festivals are an important part of the Boston Book Festival's commitment to ensuring our programming reaches every resident of the city.
All neighborhood events are curated in partnership with each local community, and we are actively seeking collaborations with local bookstores, libraries, arts districts, museums, writing centers, and more. We are always interested to hear from like-minded organizations and individuals.
East Boston
This year, we will be back at the East Boston branch with more fun and surprises. The all-ages programming drew hundreds of people to the library for the festivities in 2017, and we will again hold discussions, readings, interactive activities and workshops throughout the day.
Roxbury
We are thrilled to be working with many of Roxbury's leading cultural and educational institutions to bring the first-ever edition of the Boston Book Festival to the neighborhood. Stay tuned!
Get Involved: Bring Books to All of Boston
The neighborhood festivals are an exciting expansion of the Boston Book Festival to some of the most energetic, yet often underserved, areas of the city. Help us make books and reading a part of every neighborhood in Boston.
Here are a few ways to get involved:
Support bringing a love of reading and books to every Boston resident, especially those most in need. These initiatives can only be possible with tax-deductible donations supporting our work.
Partner with us to expand our programming and reach.
Volunteer to help us make these new initiatives a success.
For more information, please email Carlin Carr at carlin@bostonbookfest.org. We look forward to seeing you in East Boston or Roxbury on October 13, 2018!