BBF Unbound 2021: Seeking Submissions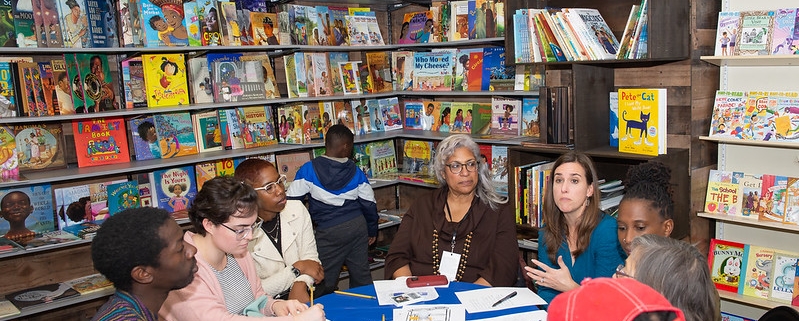 The BBF Unbound series of community-curated sessions annually offers a bounty of creative sessions and workshops proposed by members of our community. Over the past ten years, BBF Unbound sessions have focused on self-publishing, political storytelling, writing about animals, writing about homelands and their complicated histories, and writings by veterans. We love hearing your ideas for sessions and working with you to develop successful BBF presentations and workshops—and putting BBF Unbound on hiatus was one of the hardest decisions we made when planning 2020's virtual BBF.
In 2021, however, we are back in person and eager to re-launch the BBF Unbound program, too! We're now accepting proposals for 2021 BBF Unbound sessions, to be presented at the Boston Book Festival on October 16 (in Copley Square) and October 23 (in Nubian Square/Roxbury), or in various other locations Boston-wide during the intervening weekdays.
We are looking for outside groups/individuals who can introduce fresh voices and new ideas to the BBF. Be creative! The session can involve a debate, demo, workshop, literary improv, dramatic readings, panel discussion, literary games, etc. We are not looking for product promotions, plugs for businesses, or sessions featuring a single author publicizing his or her book. We are especially interested in program proposals from organizations and individuals based in Roxbury, as well as by curators who represent communities historically underrepresented in publishing and literary programming. 
Note that in 2021, due to venue limitations, we are particularly interested in proposals that move outdoors or outside of the traditional classroom or lecture hall setting. Have an idea for a literary themed walking tour, scavenger hunt, traveling performance, immersive workshop, or dance party that engages with the cityscapes of Back Bay, Roxbury, or beyond? Get inspired, and pitch it to us! Not sure if your session is what we're looking for? Try us! We are always willing to work with BBF Unbound producers to fine-tune their proposals so they'll work within the larger literary landscape of the Boston Book Festival.
You will be responsible for running your session, i.e., gathering participants, beginning and ending on time, and covering any expenses (beyond room rental and basic A/V). We will publicize your session on our website and in our Program Guide, and we will expect you to publicize it via your networks as well. Presenters who come to us via BBF Unbound receive all the same benefits as any invited presenters: a presenter badge, a headshot and bio on the BBF website, and invitations to the kickoff cocktail reception and afterparty.
We will evaluate proposals based on: 1. Will the content appeal to the BBF audience? 2. Does the content offer something different from standard BBF fare? 3. Is the individual/group offering a plausible plan for implementing the session?
The deadline to apply has now passed—applicants will be notified of their selection by mid-July.
Questions?: Contact Norah Piehl, norah@bostonbookfest.org
If you would like to submit a hard copy of your proposal, or if you would like to submit supporting materials, please send them to:
Norah Piehl, Executive Director
Boston Book Festival
32R Essex St. Cambridge, MA 02139
norah@bostonbookfest.org
We look forward to reviewing your submissions!